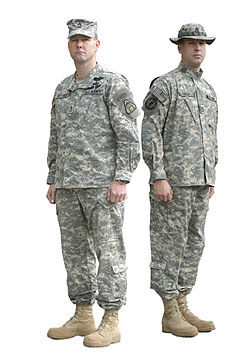 The Army Combat Uniform (ACU) is the current combat uniform worn by the United States Army. It is the successor to the Battle Dress Uniform (BDU) and Desert Camouflage Uniform (DCU) worn from the 1980s through the early 2000s. It features a number of design changes, as well as a different camouflage pattern from its predecessor. The ACU and its component materials are manufactured by the existing industrial infrastructure which produced the now-obsolete BDU. Official military-grade ACUs are made of 50% nylon and 50% cotton. All other blends are not official issue.
Universal Camouflage Pattern
[
]
The U.S. Army uses the Universal Camouflage Pattern (UCP), which blends tan, gray and green (Desert Sand 500, Urban Gray 501 and Foliage Green 502) to work equally in desert, woodland, and urban environments. Similar to the United States Marine Corps MARPAT and Canadian CADPAT camouflage schemes that preceded it, the pattern design is based on research into Dual Texture (Dual-Tex) Camouflage conducted in the 1970s. This design, however, is not as effective as patterns with color schemes specific to a single environment and may have been implemented due to budgetary constraints.
The color scheme of the Army Combat Uniform is composed of a slate gray, desert sand and foliage green pixel pattern, which becomes darker or lighter depending on exposure to sunlight. The shade black was omitted from the uniform since it is highly visible both to the naked eye and to modern optics. However, it does utilize several shades of grey ranging from very light to extremely dark. Pure black, when viewed through night vision devices, appears excessively dark and creates an undesirable high-contrast image.