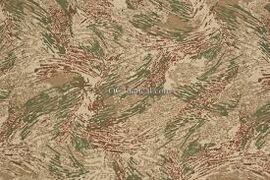 All Over Brush consisted of swirls of colors similar to patches of grass and brush. In a poll from the Army Times in 2002, All Over Brush was voted the most popular pattern in the woodland, desert, and urban schemes. The urban and desert/urban schemes were eliminated in the first phase of testing, with woodland being eliminated during the second phase of testing. Desert All Over Brush made it through phase three and four in a modified, more all-environment friendly form.
Conclusion From Army testing.

[

]
"Pattern Desert All Over Brush was identified and recommended as the best performing camouflage design for multiple environments for the Future Force Warrior Program. Desert All Over Brush's performance demonstrated its effectiveness in a wide range of terrains. Though none of the four down selected camouflage designs tested performed poorly in any one environment, neither did any perform optimally, due to the fact that they were designed to "blend" universally across all terrains: Woodland, Urban, and Desert."